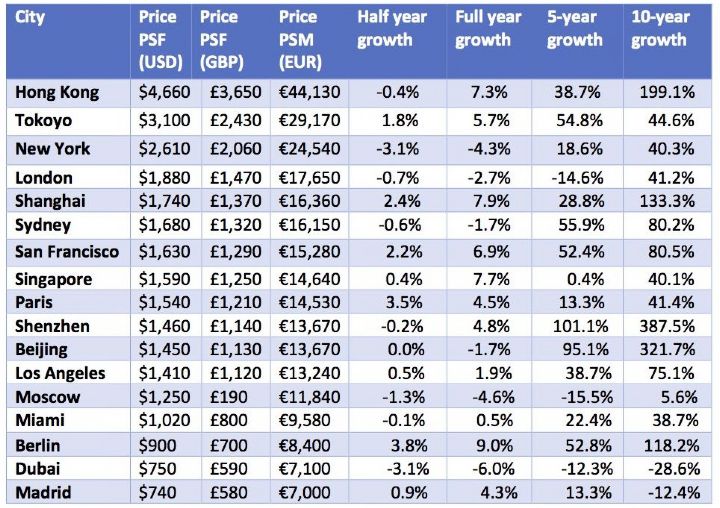 Prices for the world's most luxurious city homes reach high plateau
From New York to London, San Francisco to Paris, Hong Kong to Berlin, owning a luxury home in a thriving city remains a must-have for the world's wealthiest buyers. And now the price tag for this sought-after real estate appears to be settling into a slower, steadier pattern of growth.
Back in 2007, spiralling global wealth and competition for trophy assets in established and emerging cities saw our world cities prime residential sales index rise by 15.4 per cent in a year. By contrast in 2018, it recorded a rise of just 2.3 per cent, the smallest annual increase since the global financial crisis.
In the hotspots where values continued climbing last year, Berlin was the biggest riser, but only Paris saw the pace of growth increase between July and December. At the same time, where prices fell, there is evidence of markets bottoming out, with New York the only place to see steeper falls in the second half of the year than in the first – a result of a surplus of new high-end developments.
Beyond the weakening Big Apple story, the major themes across the index are of cooling measures taking the heat out of price growth in Asia-Pacific cities Shanghai, Singapore, Hong Kong, Tokyo and Shenzhen; the Brexit scenario stalling prices in the London market and boosting demand for lower value mainland European cities; the ongoing rise of West Coast city tech economies; and the oil factor and political uncertainty playing out in Dubai and Moscow.
Hong Kong remains in a league of its own as the most expensive city followed by Tokyo, New York and London. Our table below shows what has been happening in the markets and what buyers can expect to pay for prime property around the world.
Without doubt, wealthy individuals will continue to want to hold one or more world city addresses as part of their investment portfolio, both as a store of wealth and as a base for work and play. But as cities reach maturity there is less potential for rocket-fuelled rises and with growth slowing significantly to 0.4 per cent in the second half of 2018, it seems prices are now located on a high plateau.